Employee Health & Safety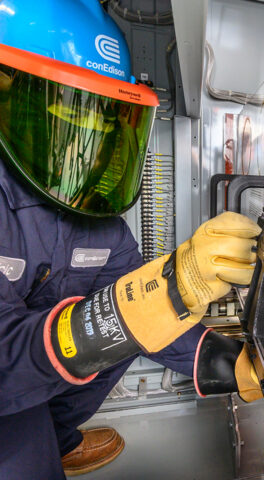 At Con Edison, our top priority is the safety of our employees and the public. Safety is engrained into the way we work, and we remain committed to embedding safety as a core principle of our culture. Consistent progress is essential to achieving our goal of a zero-harm workplace. At Consolidated Edison Company of New York, Inc. (CECONY), we have reduced injuries by more than 68% since 2009. In 2021, CECONY's injury and illness rate of 1.22 was higher than our target of 1.00. We experienced one significant high-hazard injury last year. Orange & Rockland improved upon its best injury and illness rate 0.80 in 2021. O&R had no significant high-hazard injuries last year and has seen an 85% reduction in injuries and illnesses since 2009.
Key focus areas for sustained improvement include:
Promoting a first-class safety culture by making safety personal and the focus of every task, every job, every day.
Programmatic focus on areas of concern within the company and industry, such as hazard recognition and mitigation, soft tissue injuries , and slips, trips and falls.
Closing gaps to prevent injuries by identifying and addressing unseen hazards.
Preventing injuries by re-invigorating our Close Call program and developing a mobile application for submissions.
Encouraging safety leadership through training, mentoring and technology with the accelerated adoption of the Safety Leadership System.
Using and developing tools by leveraging data from job briefings.
Training employees on driving and slips, trips, and falls conditions through simulations.
Working towards 100% procedural compliance to support a zero-harm workplace.
At Con Edison, critical safety programs are maintained as corporate procedures to codify our proactive approach to safety. An essential safety practice is delivering Job Briefings. As outlined in corporate instruction GEHSI S24.07 – Job Briefings, job briefings must be conducted for each job and are required to be complete and robust reviews of the scope of work, including a discussion of any hazards associated with a job. Our Job Site Safety Exchange, Job Safety Analysis, Close Call, and Time Out programs are other examples that help us identify and mitigate safety risks.
Auditing plays a critical role in providing a field presence and supporting the company's goal of a zero-harm workplace. Internal Auditing has a dedicated Environment, Health and Safety (EH&S) department. The group conducts two types of unannounced audits: EH&S compliance audits at facilities (such as Administrative Buildings, Service and Operation Centers, Generating Stations, Substations) and EH&S compliance inspections of employee and contractor crews working in the field. Internal Auditing also performs process reviews of various EH&S programs such as the Hearing Conservation Program, Respiratory Protection Program, Close Call Program, Spill Prevention, Control & Countermeasures, vehicle idling, spill reporting, remediation, waste management, and more. The annual audit plan includes a balance of each of these audit types.
It is company policy that our contractors comply with all applicable laws and Con Edison procedures or requirements. Our policies require that we procure, manage, and evaluate suppliers based on their environment, health, and safety performance. Contractor training is reviewed during the qualification process. We offer additional training for contractors at our Learning Center, if necessary. Contractors seeking to be qualified to perform field work must provide an Environmental, Health and Safety Plan (EHASP) detailing how they will comply with all environmental, health, and safety standards that apply to the work that they perform. EHASPs that simply restate the regulatory standards are not acceptable. Company field inspectors oversee all contractor work and are responsible for confirming that contractors are working in accordance with all applicable standards. If the supplier's work fails to comply with the contract requirements, field inspectors must take immediate corrective action. A Contractor Field Observation Report (CFOR), infraction report, or Action Line must also be filed in our Contractor Oversight System. In addition, contractor safety performance is tied to some of our Key Performance Indicators.
In addition to the multitude of corporate procedures and instructions we maintain to support our health and safety program, we have safety-specific targets that we assess regularly. We track and report on our OSHA Injury and Illness rate on a monthly basis on both a corporate and departmental level. We also track our motor vehicle collision rates by collision type, helping us improve the efficacy of our driver safety programs. Over the past few years, we have developed the Safety Leadership System (SLS), which takes a data-driven approach to safety. The SLS enables us to view our safety performance from the corporate level all the way down to the smallest working group or individual. After implementing the system, we've seen a dramatic reduction in operating errors. We're proud to say that the Association of Edison Illuminating Companies (AEIC) presented Con Edison with the 2021 Top 10 Achievement Award for the development of the SLS.
Con Edison of New York
OSHA Incident Rate
O&R continues its progress toward a zero-harm workplace thanks to the joint union-management Corporate Safety Committee, Company Safety Team, and 12 organization-specific safety teams. To improve upon our outstanding motor vehicle and driver performance, we have expanded our in-vehicle monitoring systems with real-time feedback in all our vehicles. This helps our drivers remain focused on zero-harm. Our communications program incorporates lessons learned from these systems, root cause analysis results (from injury and collision reviews), close-call reporting, and other measures that have also boosted our overall performance.
Orange and Rockland
OSHA Incident Rate